FREE 4 PART VIDEO TRAINING SERIES: How To Create Authority & Expert Positioning Online
FREE 4 PART VIDEO TRAINING SERIES: How To Create Authority & Expert Positioning Online
5 KEYS TO ONLINE MARKETING & BUSINESS SUCCESS (AND THE 1 MISTAKE TO AVOID)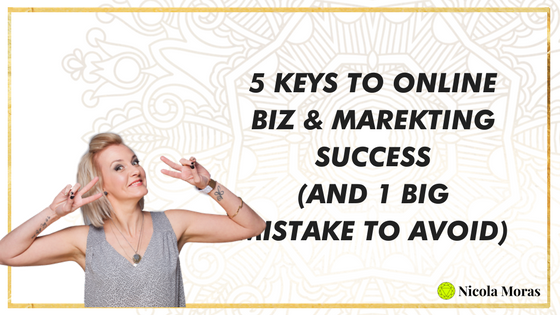 When it comes to marketing yourself online there are certain things you want to do – and in a particular ORDER.
Now I know that for some of us we kind of 'like' to fly by the seat of our pants. To run with our intuition and where our creativity takes us at any given time. Some of us get bored and cross with having to follow a particular process and order…
But here's the thing: If you do things out of order when it comes to MARKETING, then you're likely to get haphazard results. Substandard responses. And all that time, money and effort you put into what you're doing can be all for nothing – and we don't want that.
Take a listen to today's video and I'll step you through the 5 KEYS TO ONLINE MARKETING & BUSINESS SUCCESS (AND THE 1 MISTAKE TO AVOID)
– Nicola