FREE 4 PART VIDEO TRAINING SERIES: How To Create Authority & Expert Positioning Online
FREE 4 PART VIDEO TRAINING SERIES: How To Create Authority & Expert Positioning Online
I'M A BIG FAT GREEDY BITCH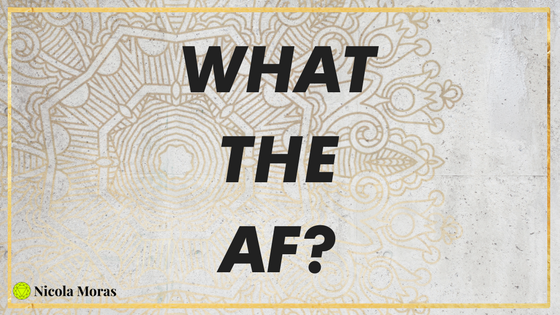 I didn't get the 'journalling' thing. Well, I get it in theory, but honestly, my pen simply doesn't work for me
I have journal after journal and I just don't 'get it'.
One day over the past month ago, though, I decided that instead of doing what everyone else has said to do ("handwrite, get a paper journal, it's kind of like spirit writing or you just write whatever comes up") … I decided to go against the well meaning advice provided and open up a word doc on my computer.
I learned to touch type on a typewriter at school, my parents bought a typing tutor program and I LOVED IT!! I turned it into a competition with myself to see how fast I could type and these days, my fingers fly across the keyboard and close to the same rate as my brain!!! It's awesome.
I opened up a word doc one day because I felt stuck. I felt like I didn't know what to do.
I've been taught in the past to 'ask the angels' and 'ask the guides' but when I DID do this, I COULDN'T HEAR JACK SHIT!!! Hahhahaaaa!!!!
I thought that I should be able to hear them. Nup. Nothing. Nada. I felt like I must have a spirituality-block thing going on, so I did some clearing and STILL NOTHING.
I don't 'see things'. I don't 'hear things'. Sometimes I get images in my head, but even THAT can be subject to interpretation, right? Yep. Ok.
So I was frustrated this particular day and I decided to just do a 'WWND' word document and start talking to MYSELF in there and give myself some advice. Like what I'd do with a client…but instead of talking out loud to myself, I am better at typing..
I started typing. And there was more. And then more. 14 pages, actually, of FULL conversation… but here's the thing, it was more a channeling conversation than a WWND advice type conversation.
I pulled out answers. Ideas. All sorts of goodness that I could then turn into marketing and things for work.
WHICH IS WHAT I WANTED IN THE FIRST PLACE!
But it took me finding a WAY to be able to do it that worked for me rather than for someone else.
WHAT IS EVEN MORE AMAZING…AND CONFRONTING, BUT AMAZING:
Because this style of 'journalling' or 'connecting' works for me, it's like the words just come right out of the ends of my fingers (thank you finger-chakras!!!), stuff flows out that I don't expect
More often than not, I'm typing with my eyes shut, asking questions and getting the answers….
I get random thoughts come in at different times, and this particular day, I asked "what's the biggest blockage that's getting in the way of me making more money right now" …
AND THE ANSWER FLOORED ME.
The answer was "Because I'm a big fat greedy bitch".
Yep. Somewhere, rolling around in the back of my brain, I had agreed that I am a big fat greedy bitch.
EUGH. YUCK. That sentence feels like the dark, poopy sludge at the bottom of the ocean floor where it's dark and rank and filled with dead fish, skeletons and the dregs of the ocean that nobody should visit.
I'M A BIG FAT GREEDY BITCH
And as I asked myself, well, Nicola, do you actually think that's true…. I said "Logically, no. I'm generous and kind and I know my stuff. OF COURSE I'm not greedy"… but…. Somewhere skittering across my brain like a cockroach that won't die, there was a "Well, maybe"…..
Of course, I did some work on that and cleaned it up. Did the woo-woo energy stuff that unlocks that, eradicates it and transmutes it.
But it got me REALISING that if THAT came up, which was something that felt way off base, then, what else is rattling around in there holding me back?
I guess, the moral of this share, is that to me, when I heard about 'journalling' I THOUGHT I had to do it in the way that I thought everyone did (Not that I asked them, I was just making HUGE assumptions around what I thought they were doing)… I thought it had to be like that book I read at school called "Are you there, God, it's me Margaret?" … and follow a set structure and process.
You just do it in a way that works for you.
For me, it's not about telling a story or recounting what happened that day or yesterday or even what I'm grateful for..
For me, journalling has been redefined as 'talking to my people'. Talking to myself via typing. Asking questions. Getting the answers. Then clearing up ANYTHING that comes up that is holding me back from stepping into my full potential.
Clearing anything that's holding me back from having EPIC relationships. Making more money. Experiencing more JOY. Having MORE FUN.
My 'process' may not work for you, and that's ace. Find something that does.
Just find a way to tap into the things that are going on in the back of your brain, do the work on 'stuff' that comes up, INVOKE divine INSPIRATION to help you with what to do next.
And if you get that cheeky, sneaky "I'm a big fat greedy bitch" virtual slap across the head, do the work to resolve it!
PS. I have a LIVE webinar coming up where I share with you how to make it easier for you to get yourself out there in a way that works FOR YOU. Without feeling douche, slimey or like a 'marketer' or 'sales person'. Join me here: www.nicolajmoras.com