FREE 4 PART VIDEO TRAINING SERIES: How To Create Authority & Expert Positioning Online
FREE 4 PART VIDEO TRAINING SERIES: How To Create Authority & Expert Positioning Online
An Inch Wide & A Mile Deep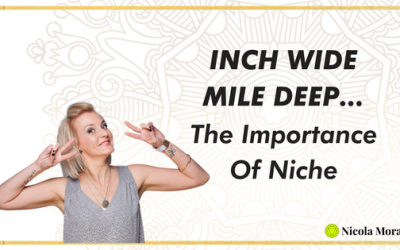 You've heard it a 1000 times most likely the cliche "Choose a niche that's an inch wide and a mile deep".. but.. for most people, that doesn't really give them enough of a reason WHY they should choose a narrow niche.
A lot of the conversations I have with prospects and new clients is around this topic, so I figured that if I can put something together that both HELPS you and shows you WHY this is so important for your MARKETING, then… this would BE A GOOD THING!
So the video below is one that will give you some examples of WHY it's important, some suggestions on where to start with choosing a niche and then what you can do in terms of implementing this concept in your marketing.
Catch the video below and if you have any questions post them in the comments so I can help YOU!
Nicola