FREE ONLINE TRAINING: The simple and effective way to grow your coaching practice
FREE ONLINE TRAINING: The simple and effective way to grow your coaching practice
"Before working with Nicola I had no idea where to start when it came to marketing myself and my business. I was overwhelmed with the amount of information out there and honestly, just wanted someone to tell me the steps that I needed to take – as well as teach me HOW to make it all work together. I went through Nicola's course and not only does she know her marketing shiz – she knows people. I am excited to grow my business. Marketing can be tricky but it's completely understandable and logical now that I know how the process works."
- KELLY DROBEK
I've been working with Nicola Moras for the last 3 months. It's amazing when you invest in yourself to do the things you know you need to do to grow your business.
Nicola is ruthlessly authentic. She is direct and approaches everything with no-nonsense. She truly cares about you and your business success.
The best part about working with Nicola is her ability to see what you need to work on to drive and create results. She's a marketing genius and together with her knowledge on business, she's the best person to show you how to do it.
Nicola is the real deal. You will never regret investing in yourself and your business!
Thank you for the privilege of working with you!
SUSIE GASPAROVIC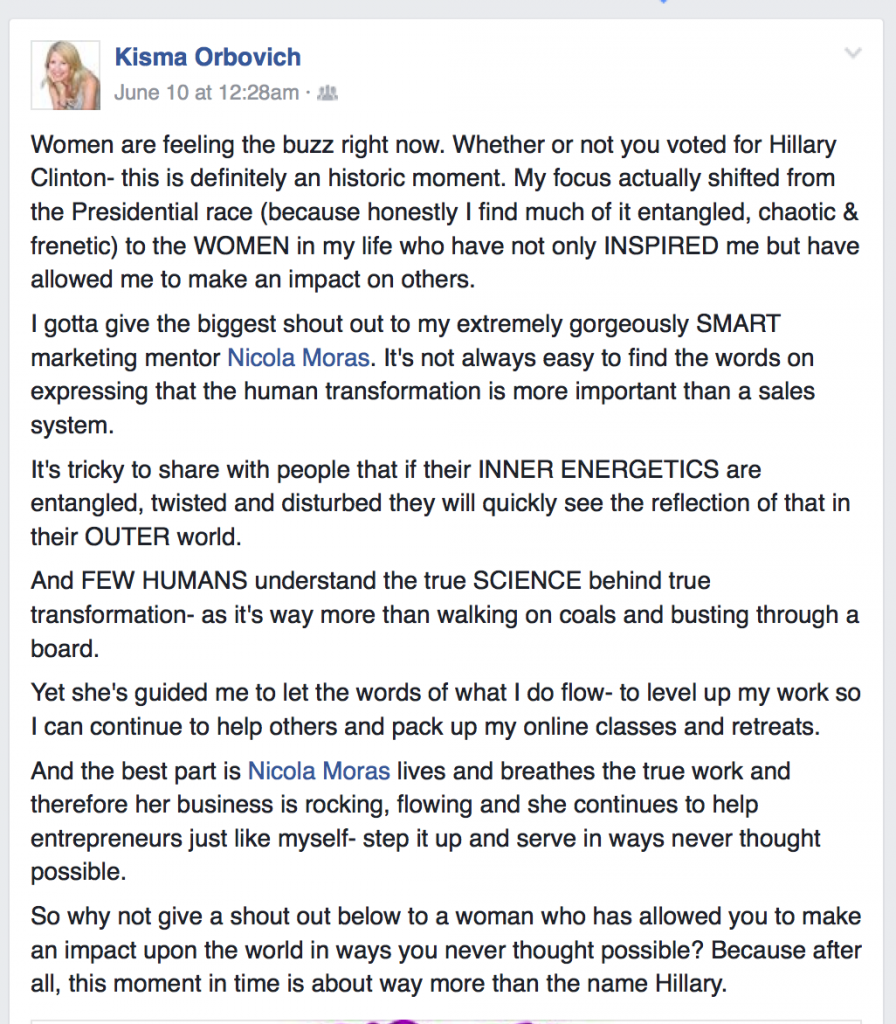 I was in a rut with my business. I knew I had an awesome message and service to offer the world but I had no idea how to get it out there!!!! A couple years ago I signed on with a different marketing coach – he was bloody AWFUL!!!! I did NOT progress at all, I did NOT get anywhere near my money's worth and I felt like I had little to no support. It was so depressing and it put me off the thought of ever trying a coach again…
And then I came across Nicola on Facebook.
I followed her for a while (she was always there in my news feed or email inbox haha!!) and something about her just resonated with me and JUST MADE SENSE. After joining in on one of her training Webinars I KNEW that I just had to work with this woman. I was so scared though as I had been so badly burned with my previous coach, but I knew I had to trust my gut and take the leap if I ever wanted to get to where I wanted to be.
My hubby was so apprehensive, I mean we had forked out all that money before with no Results! But I asked him if he trusted me and had faith in me, and of course he did!! So I made the best decision of starting with her!!!! I've had some moments where I've panicked and worried that it all just wasn't going to work….but I stuck with it and stayed CONSISTENT and just followed her process – and guess what??! It's bloody WORKING!!!!
I feel like I need to shout it from a rooftop!!! Haha!! I feel like everything happens for a reason and I am now so confident that my success is just going to continue to grow and grow – I have no doubt in my mind anymore. Nicola was everything I needed plus more, and I am so thankful for that first day she popped up in my Facebook newsfeed xx
ALISON GOMULKA
I've been to many events and trainings, however, what shines through with Nicola is that she actually cares about her clients. It's very refreshing. I've been to many events and trainings and honestly, this has been the smoothest and most professional event I've been and add the personal attention to that, it's been excellent.
I know EXACTLY what I need to do and how I need to do. Look out world! I have the clarity and the plan of exactly what I need to do.
FRED FUNTUSOFF
I attended a Facebook For Business Workshop with Nicola.  My business was struggling at the time, with failing marketing strategies and I just needed someone to guide me through the world of FaceBook advertising.
Well I got that and then some!  Not only did I come out of the workshop with the basics of producing a FaceBook funnel, but also with a renewed zest for my business and what could actually be achieved.
I feel privileged to have spent time with Nicola and other like minded business people, in other forums since that day.  I now know the value of the time and money I spent on that original workshop, which has resulted in an increase of 700% in income in 6 months.
Thank You Nicola for all your assistance, advice and experience which you share so freely.  You have totally changed my life!
Jeromy ~ The Mind Master
If you're considering attending a workshop with Nicola, do it! You'll get lots of practical tips on sales and marketing, as well as a framework for building your plan and strategy.
The mindset conversations are always so interesting and enlightening too.
The best thing out of the even was a great collective energy from the group which fed into more clarity about my target audience.
Jo Johnson – The Content Coach
I spent 3 days working with Nicola at her amazing event in Las Vegas and the very best thing was that I left feeling and KNOWING that I accomplished important tasks and projects in my business. Too many times I go to events and feel depleted and then need to catch up for days on end because nothing really got done.
Nicola has a gift of dialing in the very next steps for your business. I can say that the week following has been amazing with productivity, positivity and sales coming in easily and effortlessly. Heck I closed 2K via text chat just yesterday!
-KISMA ORBOVICH, Founder, Illumination Academy
Working with Nic has been totally transformational from a business sense, most importantly I learnt that by restructuring the way I did business with my clients I could not only charge more (and thus create a sustainable business) but actually provide them with more valuable and lasting change.
As a coach I've moved from a per session rate of $250/month to high value packaging of my services worth $2000/month. Incubating people with purpose!!! And what a crazy-amazing bunch of people I am working with, totally committed to doing what they need to get what they want to happen in their own lives.
I'm so grateful, Nicola's program was exactly what I needed to shift my business to the next level to be able to do what I love, more effectively, with more people!
Fleur went from $45k per year to doing $42k in 3 months!
Her advertising result for the last year was $3800 in ad spend to make $146k!!!!!
- FLEUR PORTER
I'm BLOWN AWAY by how far I've come doing this course. Are there cheaper courses out there? Sure. But before I spoke with you Nicola, I had no clarity. I had the course inside me but I didn't know how to get it out. In 15 minutes you had me spilling it all out, and I suddenly had a vision. I was completely burnt out from working SO hard and gaining NO traction in my business, frustrated knowing I have SO MUCH to offer people and SO WANTING to help, but not knowing how to start.
Deciding to work with you reignited the fire that was flickering so low. We remortgaged our house so I could do your course, and I don't regret it for a second. Since starting with you, my Facebook page has grown, I FINALLY have a list and KNOW WHAT TO DO WITH IT, and I have a WONDERFUL course that I'm so looking forward to sharing with people. I know how to do sales – something I've previously been so shit at! I've done two webinars and am gearing up for a third.
I know EXACTLY who I'm talking to and HOW to talk to them. I'm so grateful I could burst. Thank you SO MUCH
- ANNA SIEBERT
Nicola makes business FUN… She is a great motivator and leader. Her enthusiasm to help people is incredible and she has HEAPS OF AMAZING strategies for biz owners to be able to move the biz up and beyond levels imaginable! Extremely excited to be working with Nic and am amazed to see the results we have created so quickly! Every thing is possible with Nic and that's why I love working with her… Highly recommended as an all-round biz Coach and Mentor. Thanks Nic
- JULIEANNE LOY
I had the privilege of spending the last 2 days with Nicola Moras and two other amazing business owners in Adelaide. I flew in all the way from Brisbane, but it was TOTALLY WORTH IT.
It was an inspiring, action-packed and life-changing 2 days! I got more done in 2 days than I would have gotten done in 2 months if I had tried this by myself. Nicola was her amazing self and over-delivered beyond expectations.
My brain was challenged, molded and finally 'reformatted' for success in my business.
I can't emphasise enough my delight in having said YES to attend this event, as the space that it provided to get 'stuff' done was invaluable and will allow me to return home to my family with an immense sense of relief but more importantly calm that I have made changes, gained knowledge, and best of all TOOK ACTION towards living the life I deserve.
Regards, Gerda
- GERDA MULLER
2 Day Workshop Feedback:
Just do it! It's really worth the investment in  yourself! The best thing I got out of this weekend was clarity, confidence and decisiveness
Naomi Darby – Burns & Co Real Estate