FREE 4 PART VIDEO TRAINING SERIES: How To Create Authority & Expert Positioning Online
FREE 4 PART VIDEO TRAINING SERIES: How To Create Authority & Expert Positioning Online
WORRIED ABOUT BURNING YOUR LIST?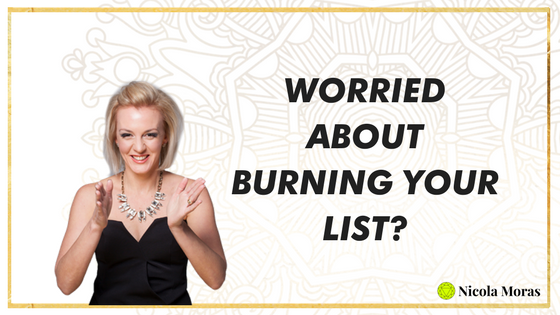 Newsletters. Email blasts. Notifications..
All the things that you 'need' to send to your list..
But have you ever been concerned about BURNING YOUR LIST?
You wouldn't be the first one to be worried about that.
Here's my take on it.
Yes, you can burn your list UNLESS you're sending them good pieces of content that actually HELPS them and provides value to them.
The biggest thing that I'd recommend ANYONE does with their list is provide value. That can be in the shape of blogs, updates, motivation, inspirational articles, podcast links. STUFF OF SUBSTANCE that solves a problem of theirs.
So for example.
Let's say that you're a lawyer and specialize in family law. Let's make some assumptions for the sake of this scenario what some of the problems a Family Lawyers' ideal clients have:
Staying positive in the face of adversity
Self care through a trying time
Managing family feuding
Keeping unemotional
Know the numbers
Having a goal
Managing your health
Managing your mindset
How to prepare for the interaction
Mediation – what is it and why do it
Knowing your rights
How to communicate without inflaming the other side
Drink more water!
How to choose the right lawyer for you
Ok. They were just a handful of things off the top of my head that you could send out to people in order to help them – assuming you're a lawyer and that person is your ideal client.
IMAGINE if YOU were someone about to go through something whereby you would need family lawyer and you signed up for something for free and ended up on their email list.
And they CARED ENOUGH ABOUT YOU to send you out a myriad of different tips, hints and advice that actually HELPED YOU – not just with an upcoming case/dispute/whatever you're doing, but in all areas of your life.
I THINK YOU'D BE PRETTY DAMN IMPRESSED.
I think you'd be pretty happy that someone cared enough about your state of mind with going through all of this, they're addressing a bunch of your stuff that's going around in your head BEFORE EVEN ASKING IF YOU WANT TO BECOME A CLIENT.
This is the Results In Advance 'marketing strategy'. The Dating strategy. The "Let's get to know you and I'll help you get a feel for my integrity" strategy.
If you're emailing out HELPFUL content. Motivational content. Content that actually educates and provides VALUE then you can NEVER BURN YOUR LIST!
No matter if you send an email once per week/once per day/once per month.
The next concept I'd like to address is my Value Stacking Concept.
Imagine that each email you send equals one point to you.
You tally that shizzle up.
One week you might send a newsletter (please don't call it a newsletter. That's boring. Think of something else to call it – even if it is a newsletter. Get creative!!). That equals ONE poing.
Let's say another day you send out the link to a blog. That equals ONE point.
Another day is an inspirational quote with a bit of a quick quip from you about why it's important. There's ANOTHER point.
So you've accumulated 3 POINTS.
I like to get to 5 POINTS of VALUE BEFORE you send anything that requires them to make a decision. This is the call to action email. You could ask them to join your webinar or take you up on a special offer or jump on a call with you or download an awesome thing you've put together.
Your GOAL is to get to 5 Value Stacking Points asap so that you can then invite your people to do something. You don't have to…..but why wouldn't you?!?!!?
And THAT my friends, is how you DO NOT BURN YOUR LIST!!!
Nicola x